Support
Your Gift Matters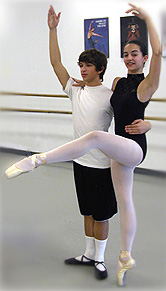 Ballet Theatre of Toledo, Inc., is a 501(c)3 non-profit organization. The ballet school is housed in its own building at 1124, Corporate Drive, in Holland, Ohio, USA. Founded in 2005, by parents, dancers and lovers of the art of ballet, Ballet Theatre of Toledo, under the Artistic Directorship of the legendary and beloved Nigel Burgoine, has grown to over 150 students. Ballet Theatre of Toledo has three state-of-the-art studios, two of which are large enough to stage performances. It is a beautiful facility, a perfect fit for THE school for ballet in the Northwest Ohio, Southwest Michigan, region.
The founders of Ballet Theatre of Toledo, Inc., were united in their vision. That vision comprises, the art of ballet, a school for ballet, the performance of ballet productions and the offer of the gift of dance to the people of Northwestern Ohio, Southeastern Michigan and the City of Toledo. Moreover that vision never loses sight of the students, children and adult dancers alike, for they are the reason that Ballet Theatre of Toledo, Inc. was born.
Help mold our future and join our Your Gift Matters campaign.
Sponsorship
Ballet Theatre of Toledo is proud to have an ever increasing number of business and foundation sponsors who support us in all manner of ways with donations of in-kind gifts and financial contributions. They do this because they share in our passion for the art of ballet. From the Artistic Director and his staff, to the company dancers, students and parents, everyone at Ballet Theatre of Toledo thanks you. Please click on their logos to find out more about them.
If you or your company would be interested and willing to support the work and artistry of Ballet Theatre of Toledo and its students, download a sponsorship form for more information.
Ballet Theatre of Toledo is supported in part by American Rescue Plan Act funds allocated by the National Endowment for the Arts, and by the City of Toledo and Lucas County Commissioners and administered by The Arts Commission.