Upcoming Performance Info
Beauty and the Beast
The Lourdes University Seating Chart is available to view, but tickets must be purchased through our studio.
We request any patrons needing assistive services please notify our box office while placing a ticket order so we can best serve you.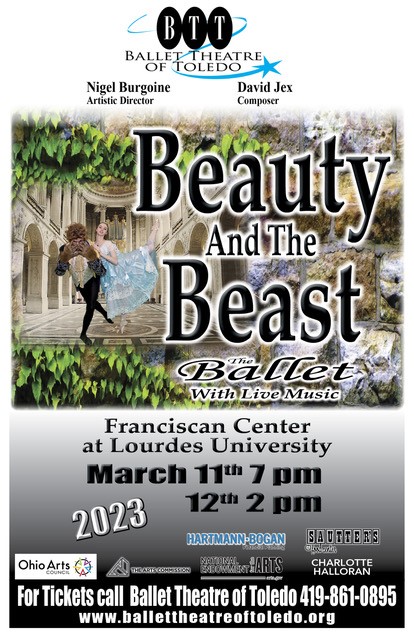 Performance History
Ballet Theatre of Toledo has been performing and promoting the art of ballet throughout Northwestern Ohio and Southwestern Michigan since its inception in June of 2005. BTT has state of the art studios in its own building, from which the Artistic Director, Nigel Burgoine and his staff teach and choreograph ballet, and only ballet. With well over 100 students enrolled in the school, BTT can produce and perform lavish and spectacular ballets. Nigel Burgoine's choreography for "Nutcracker" is legend. His world premiere of Aladdin, performed at the Stranahan Theater, in March of 2007, was nothing less than breathtaking and the dance event of the year according to the Toledo Blade. As you will see from the clips and the photographs, as well as critical reviews, there is no question that Ballet Theatre of Toledo is THE school for ballet in the area. Click on the seasons below and see for yourself.