Associate Artistic Director: Anne Marie Getz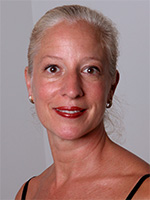 Anne Marie is a familiar face to Toledo audiences. She has trained and performed for over 35 years. She has danced under the direction of Terry Orr, Soili Arvola, Leo Ahonen, Melissa Hayden, Irena Pal, Cheri Noble and Nigel Burgoine to name a few.
She has danced principal roles in Cinderella, Coppelia, Sleeping Beauty, Alice in Wonderland, Nutcracker and Giselle. She has been teaching ballet for over 20 years, has a Bachelor's degree in Business and is Ballet Theatre's Associate Artistic Director. Ms. Getz married Nigel Burgoine, after his romantic proposal during a curtain call for "Nutcracker".